Our Mailing Address is:
St. Cloud Area Mothers of Multiples
P.O. Box 7825
St. Cloud, MN 56302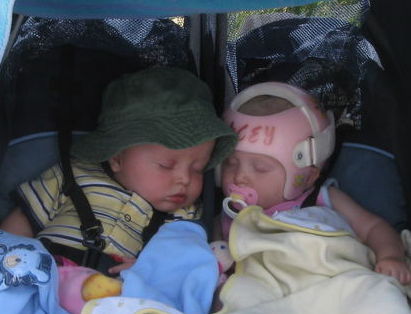 EXPECTING OR NEW TO THE AREA?
It makes our day when we hear from MOMs who are interested in our club!
Please feel free to e-mail any of us on the Executive Committee through the links on the right column. We would love to hear from you and share more information about our club.
If you are a new or expecting MOM, you can also send an e-mail to our new MOM Liaisions: Triscia Evenson.

newmoms@stcloudmoms.com
If you are a prospective member, you can visit one of our meetings by just showing up and letting us know that you are new. Our greeter will be happy to welcome you to our meeting and introduce you to other members.
You can also connect with our club on Facebook! Just type "ST. CLOUD AREA MOMS" into FB to search for it and send a request to join the group.
Co-Presidents: Meghan Blenker and Angela Suetter
Meghan is MOM of Boy/Boy twins. Angela is also MOM of Boy/Boy twins.

president@stcloudmoms.com
---
Vice President: Denise Hegge
MOM of Boy/Girl twins

vicepresident@stcloudmoms.com
---
Secretary: Jessica Brenny
MOM of Boy/Girl Twins

secretary@stcloudmoms.com
---
Treasurer: Deanna Nelson
MOM of Boy/Boy Twins

treasurer@stcloudmoms.com
---
Newsletter Editor: Shannon Honzay
MOM of Boy/Boy Twins

newsletter@stcloudmoms.com